The Saints played their second preseason game on Friday against the Buffalo Bills. While they didn't win or score a lot of points (only 10), the first team offense looked a whole lot better than they did in the Hall of Fame Game. Drew Brees was sharp and Devery Henderson made Saints and LSU fans feel that he may finally live up to his 2nd round draft status. Reggie Bush also looks even better than last year and is poised for a big year in the NFL's #1 offense.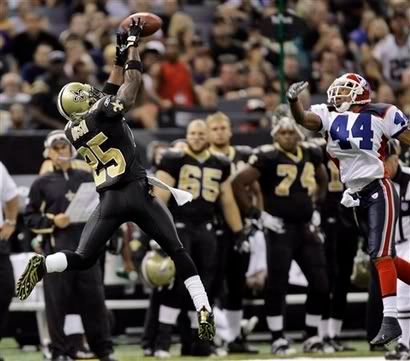 The defense looked OK, but there's still room for improvement. While they will be able to pressure the QB all year, the run defense is still a concern. This is even more evident when the backups come into the game. The secondary played better, and I think that has a lot to do with Roman Harper's return to the lineup. Harper is a field general out there
and reduces the possibilities for blown coverage.
A few bubble players who helped themselves in this game:
-
QB Tyler Palko
-- he played for nearly 3 quarters and showed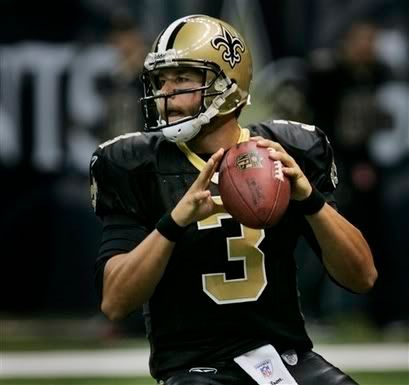 that he can run the offense. He needs to reduce his mistakes and not turn the ball over.
-
WR/KR Lance Moore
-- despite a bone-headed play by fielding the ball at the 6-yard line and losing 4 yards, Moore has locked up the returners job.
-
LBs Troy Evans/Marvin Mitchell
-- both played well when given the opportunity and both can and will contribute on special teams.
-
DE Josh Cooper
-- while not really on the bubble, Cooper showed that there is depth behind starters Will Smith and Charles Grant. Cooper continues to play well.
-
WR Robert Meachem
-- also not a player on the bubble, since a team will never cut a first round draft pick, Meachem is a player who fans had soured on quickly. His nice touchdown catch should be a confidence booster for both him and the Gulf Coast Offense.
Players who likely hurt themselves:
-
CB Anwar Phillips
-- blown coverages and penalties are hurting the former Nitney Lion. I see no way that he makes this team.
-
WR Jamal Jones
-- he surprised many by making the team last year, but he won't make the team this year if he can't play. An injury has allowed others to pass him in camp.
-
OT Rob Petitti
-- considerable downgrade when he enters the game. Tyler Palko had pressure on him in the second half.
*photos by AP